Sunday 24. November 2019
17:30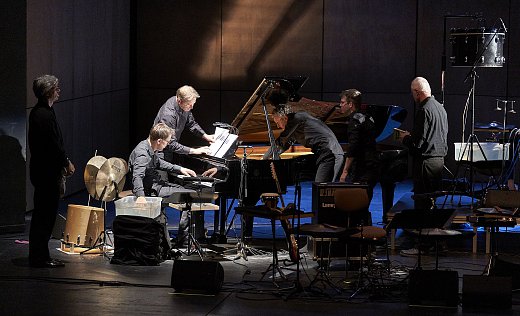 A Few Words Before the Law
DOX Centre

Where Music Starts and Ends?

Public interview with Martin Smolka and Jiří Adámek
---

"Is the word music music?" asked John Cage a long time ago. Composer Martin Smolka and librettist
Jiří Adámek ask a similar question in their joint work, Vor dem Gesetz (Before the Law).

This piece for seven speaking musicians with side instruments is based on texts by Franz Kafka and
Albert Camus – some of them will be heard, others remain hidden in the strange merging of musical and
theatrical elements.
Before the Czech premiere of Vor dem Gesetz at the Contempuls Festival, Boris Klepal will interview
both artists.
Admission free.
Discussion in the Czech language.
Sunday 24. November 2019
19:00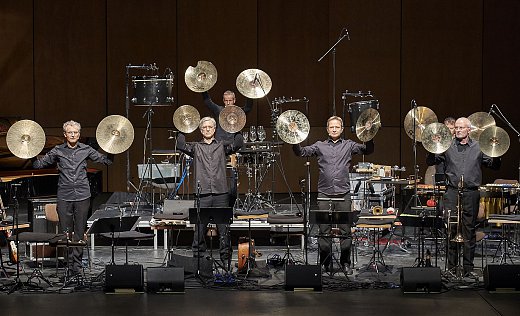 ascolta
DOX+

Erik Borgir – violoncello, Andrew Digby – trombone, Florian Hoelscher – piano, Julian Belli – drums, Boris Müller – drums, Markus Schwind – trumpet, Hubert Steiner – guitar

Martin Smolka, Jiří Adámek:
Vor dem Gesetz (Before the Law) –
Czech premiere
for 7 speaking musicians with side instruments, based on a short story by Franz Kafka
Ivana Kanhäuserová – light design
Oliver Frick – sound design, Prague premiere Jan Veselý


---
Composer Martin Smolka and director and librettist Jiří Adámek first formed a creative partnership in 2014, when they created an exceptionally original opera, Sezname, otevři se! After its premiere at the NODO festival in Ostrava, it was successfully presented in a reworked chamber version in the Alfred ve dvoře theatre under the title Bludiště seznamů (The Infinity of Lists). Their latest joint project – a staged musical setting of Vor dem Gesetz (Before the Law) by Franz Kafka – was created in close collaboration with the seven-piece German contemporary music ensemble ascolta. Together, they developed a format on the boundaries of concert, theatre, and instrumental poetry, in which the aim is to conceive of "music as speech" and of "speech as music". The performance does not include video, actors, or a narrator. All of the stage action is executed by the instrumentalists, who perform on their own instruments, play various objects placed around the stage (side instruments, as Smolka calls them), speak, and sing. The world premiere of this hour-long work took place this May as part of the prestigious Wittener Tage für neue Kammermusik festival in Germany. The Czech premiere in the DOX+ concert hall is an exceptional opportunity for Prague audiences to acquaint themselves with a new work by two leading Czech artists and experience a performance by this top-class German ensemble.

Trailer

With the support of the Czech-German Future Fund
Funded by the German Federal Cultural Foundation
Commissioned by Ensemble ascolta, with the support of the Ernst von Siemens Musikstiftung
Sunday 24. November 2019
20:30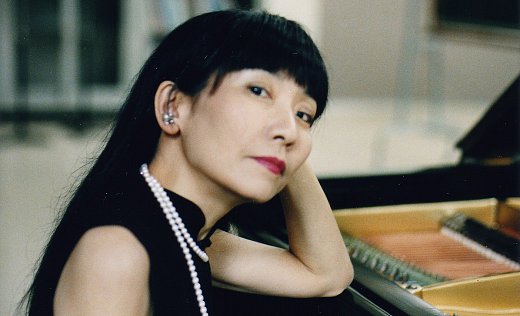 Satoko Inoue (J)
DOX+

Jo Kondo: Sight Rhythmics
Luboš Mrkvička: For Piano, Part K –
world premiere
Jo Kondo: Interlude
Morton Feldman: Palais de Mari
---

Japanese pianist Satoko Inoue has collaborated with a number of respected contemporary composers. Her most special relationship is with Jo Kondo. This important Japanese composer has written many pieces for her, which Inoue presents at festivals around Europe and the United States, and which she recorded for the Swiss label Hat Hut Records. At the Contempuls festival, she will play a magical piece by Kondo from the 1970s, Sight Rhythmics, as well as the latest fruit of their collaboration, Interlude from 2017. The programme will also include the world premiere of For Piano, Part K from a loose series of piano works by Czech composer Luboš Mrkvička, among other things the recipient of the Trochu nižší C4 award (Somewhat Lower C4). The evening will conclude with the last piano work by the giant of American experimental music, Morton Feldman, named after the Mesopotamian ruins – Palais de Mari.
Sunday 1. December 2019
19:00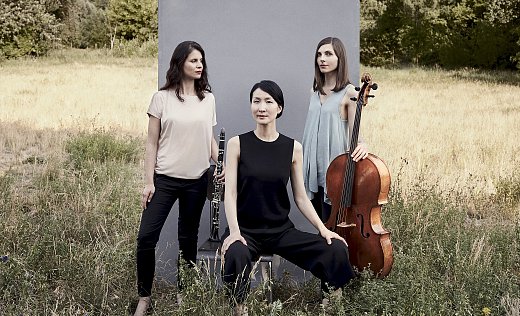 Trio Catch (D)
DOX+

Boglárka Pecze – clarinet, Eva Boesch – violoncello, Sun-Young Nam – piano

Georges Aperghis: Trio
Jakub Rataj: IOI, Interludium - Origin's Ichor – world premiere, commissioned by Contempuls
Isabel Mundry: Sounds, Archeologies
---

The Hamburg-based Trio Catch is composed of instrumentalists from Hungary, Switzerland, and South Korea. They met as participants of the International Ensemble Modern Academy in Frankfurt. During its six years of operation, the ensemble – named after a piece by Thomas Adès – began collaborating with established composers including Georges Aperghis, Beat Furrer, or Helmut Lachenmann, performed at the most important European festivals for contemporary music, and recorded a number of CDs for the Kairos and col legno labels. Among their highlights of the previous season are concerts at the Elbphilharmonie in Hamburg, the Pierre Boulez Saal in Berlin, and premieres of new works by Georg Friedrich Haas, Milica Djordjević, and Mikel Urquiza in the Cologne Philharmonic. In Prague, the ensemble will perform a world premiere of a new piece by Czech composer Jakub Rataj commissioned by the Contempuls festival, and two pieces central to its repertoire – Greek composer Georges Aperghis' Trio and the half-hour Sounds, Archeologies, written for the ensemble by German middle generation composer Isabel Mundry.
Sunday 1. December 2019
20:30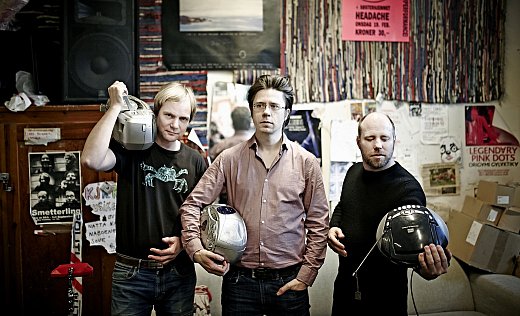 POING (N)
DOX+

Rolf-Erik Nystrøm – saxofon, Frode Haltli – akordeon, Håkon Thelin – kontrabas


Maja S. K. Ratkje: essential extensions
Maja S. K. Ratkje: Rondo – Bastard – Overture – Explosion
Martin Rane Bauck: Vela
Bent Sørensen: Suite from The Four Seasons – world premiere
Sachiyo Tsurumi: SUSHIYA 009
---
One of the best Scandinavian ensembles for contemporary music, the Norwegian trio POING is composed of musicians who move lightly between the club scene and the prestigious concert halls of Europe, Asia, and the US. They're at home in notated music as well as improvisation, and they enjoy collaborations with musicians from around the world, e.g. Iran, India, Nepal, the Faroe Islands, Bulgaria, Peru, Tanzania, Ivory Coast, or Japan, who have a background in folk, popular, or experimental music. Since starting out in 1999, POING have premiered more than a hundred new works and collaborated with some of the most important contemporary composers including Simon Steen-Andersen, Bent Sørensen, Terry Riley, Rolf Wallin, Michael Finnissy, or Helmut Oehring. In Prague, POING will offer a representative selection from their diverse repertoire: two pieces by Norwegian composer Maja S. K. Ratkje, who is known in our lands mostly as a vocalist and performer, a work by one of the most important Danish composers, Bent Sørensen, inspired by a novel by Tomas Espedal, and samples from the work of two composers virtually unknown in our lands, Martin Rane Bauck and Sachiyo Tsurumi.